Seller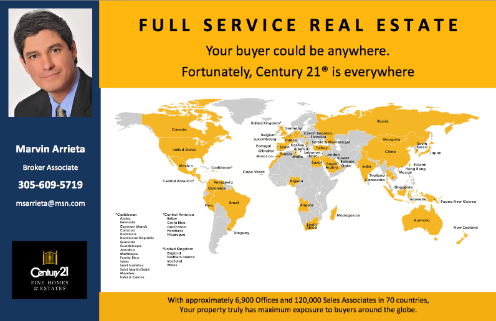 Selling Advice
Your home is more than an architectural structure. Often, it's an extension of who you are – your personality, style and values. That's why selling it can be an emotional experience. But it can also be exciting and rewarding. This section provides some simple home selling tips that can help lead you to a successful, timely sale.
Home Selling Tips & Advice
Once you've made up your mind to sell your home, you need to do your "homework" – and here is a great place to start! Getting a signed contract is a great accomplishment, but that's only half the journey. The typical home sale today involves more than 20 steps after the initial contract is accepted to complete the transaction.1
A real estate professional can provide the experience and local knowledge to guide you through the entire process, and selling your home within the ideal time frame and at the most effective price point. As the representative of your best interests, Marvin Arrieta has state-of-the-art marketing resources to showcase your home's best assets, and help you determine what improvements will make the biggest difference.
Much of what needs to be done before the closing is the responsibility of appraisers, loan processors, attorneys, and inspectors. Marvin Arrieta's role also includes coordinating those responsibilities, helping to ensure that others do their jobs promptly and correctly.
Many steps between contract ratification and closing involve the cooperation of both buyer and seller, and attentive real estate professionals on both sides of the transaction will troubleshoot and keep everyone on track.
Process of Sale
Home Selling Tips for First Time Home Sellers
At first, selling your home seems daunting: You haven't sold a home before, the market looks complex, and what worked for owners 10 or 20 years ago seems inappropriate today.
What steps should you take? Here's a simple list to get you started.
1. You Can Do It. Some 5.65 million existing homes were sold in 2007* , more than 15,000 a day. Other owners have done it and so can you.
2. Define Your Goal. Do you want the highest sales price -- or the biggest check at closing? They're not necessarily the same. Imagine that two homes sell for $300,000, but one owner pays 2 points and agrees to replace the roof. The owner who sold without such costs got a bigger check at settlement. The bottom line: To have a successful sale you need to look at both price and terms -- you must have a strong negotiator in your corner.
3. Times Have Changed. Today's real estate marketplace is radically different when compared with 10 years ago. Purchasers now use the Internet, receive seller disclosure forms, get home inspections, and are routinely represented by buyer brokers. The result is that buyers can be better prepared than in the past.
4. Sparkle And Shine. Imagine going to a supermarket and seeing dusty fruit or aisles filled with old shelving and cans. It doesn't happen because the grocery store knows how to present its goods. Sellers must do the same. Get rid of things you don't want to move, organize closets and storage areas, and clean everywhere.
5. Mechanics Count. Buyers expect everything to work. Home inspections are now entirely common and what buyers miss home inspectors will catch. Fix and paint things now and they won't be an issue in the future.
6. Set the stage. When buyers see your home, it's showtime. They want an environment where they can see themselves. De-clutter and hide knick knacks that will distract them from their dreams. Given them a show where everything is painted, arranged, and attractive, a home where the only issue is when to move in.
7. Know the market. Real estate is local. Your broker can explain current market trends in your community, including what's selling, what isn't selling, and why. This information is central to getting the optimal price and terms.
8. Know the competition. Your property will be competing with other homes for buyer attention. Ask your broker how to be competitive -- and how to have an edge.
9. Be realistic. Markets differ by location and time. When interest rates are low and the local job base is growing, it's great to be a seller. But when times are slack and mortgage rates are rising, homes also sell. The trick is to be realistic, to get as much as market conditions will allow.
10. Have a plan. Real estate marketing involves far more than a sign in the yard and an ad in the paper. Successful brokers use a variety of methods to attract and qualify prospects, including the latest Internet and communication advances.
MARKETING PROGRAM
---
LOCAL – NATIONAL – INTERNATIONAL
Integrated marketing strategy that combines direct sales with outside media,
utilizing the latest technology.
My marketing program which shows my level of commitment to maximizing the exposure of your home. Maximum exposure is the key to generating the highest sale price for your property.
Preparing The Property For The Market
Recommend a pre-listing inspection and recommend following simple exterior and interior design ideas.

Develop a Comparative Market Analysis (CMA).

Create a photo slideshow or virtual tour to post on listing websites.
Putting A Property On The Market
Enter your listing into local Multiple Listing Service.

Place the CENTURY 21® "For Sale" yard sign.

Place a "Lock Box" on your door to provide easy access for other agents (if necessary).
Marketing The Property - Local, National & International
Announce your listing to Agents in my office and other 20 CENTURY 21 Offices with 1,381 Agents in Miami.

Prepare full color flyers and brochure in our own "in-house marketing department ".

Display ad in the Miami Herald's Home Section on Sunday's.

Direct mail advertising in our local area.

Distribute your listing to hundreds of Listing Partners local (286 Real Estate Offices with 6477 Real Estate Agent in Miami-Dade).

Place your listing on our century21.com website which is linked to over 70 countries through a network of more than 120,000 real estate professionals.

Tour your home with prospective buyers referred by our Relocation Program in Latin America, China, France, Middle East, Caribbean And other countries . We are connected to thousands of CENTURY 21 Offices around the world.

Website Listing Distribution Network: Trulia.com, Zillow.com, Realtor.com, Homes.com, FrontDoor, Google.com, Yahoo Real Estate, MSN Real Estate, AOL Real and more.

Schedule email marketing pieces to my entire list of contacts and past clients as well as area Realtors.

Offer a team of experienced full-time multi-lingual professional assistants.

Place your listing on social media sites like Facebook, Twitter and YouTube.

Place your listing on my personal website www.MarvinArrieta.com.

Create an Individual property website for your listing.

Hold an Open House for area REALTORS and the public.

Offer the CENTURY 21 Home Protection Plan that can help attract buyers to your property.

Provide you with constant feedback from buyer showings.

Send you weekly online activity reports on your property.

Negotiate with potential buyers on your behalf to help get you to the closing.